The Hartland Abbey Estate as a location for filming, photo shoots and events
BBC production of The Night Manager by John Le Carre
In early February 2015 we were approached by Location Manager, Steve Hart, on behalf of the BBC and The Ink Factory, who was looking for a suitable location for the windswept and remote Cornish cottage, the Lanyon. Later in the month a large contingent from Production came down, including Producer Rob Bullock, and the set designers. Always a tense moment when arriving tired after the long journey from London, first impressions are so important and we hoped for a beautiful day to show the cottage in the best light! It was not to be but thankfully they were bowled over by the location having searched much of the coast of Britain.
From 11th – 18th April the car park at Hartland Abbey was used as the Unit Base whilst filming went on in Hartland village and at Blackpool Mill Cottage. Getting the larger winnibagos in was a bit tight but we have done it before and it was all fine. A huge amount of support vehicles filled the whole car parking area; make up, costume, catering, cameras, lighting, props to name but a few, with winnibagos for production and the actors. The caterers did an amazing job with delicious food on offer for the big crew. The BBC, the actors and production could not have been more considerate, especially to the Hartland Abbey visitors who managed to get a peek of the filming.
Starring Hugh Laurie as Richard Onslow Roper, Tom Hiddleston as Jonathan Pine and Olivia Colman as Angela Burr, at the time of writing it has got off to a fantastic start; we are eagerly awaiting the Hartland and Blackpool Mill scenes in Episode 2. It has been an honour for us all in Hartland to have been awarded such a prestigious production but it is thanks to the welcome and help of local people in the past and an abundance of accommodation locally at Hartland Quay, Clovelly  and elsewhere that has made Hartland such a popular place to film.
BBC Filming of 'Sense and Sensibility'
During May 2007 the BBC spent three weeks here for the filming of Jane Austen's classic, 'Sense and Sensibility', adapted by Andrew Davies. Janet McTeer, Mark Williams and a star studded cast braved the rain and gales which May so cruelly provided for them! Our car park was the unit base with all the usual paraphernalia associated with filming – huge lorries for make up, catering and costume, actors' Winnebagos, horses, carriages etc; it was very exciting! The donkeys had a particularly good time; the smart horses used in the film arrived with some very special hay most of which was stolen by the very greedy donkeys! Our visitors were amazed to see actors and actresses wandering about in period costume or coachmen buying ice creams; it was certainly an added attraction. At the end of the week all the huge vehicles cleverly departed without leaving a sea of mud for which we are eternally grateful.
Blackpool Mill Cottage was transformed with some beautiful additions and a particularly lovely seaside garden. The BBC screened this in the spring 2008 and it certainly was a wonderful production.
Hartland Abbey has been used not only as a location but also as a production base.  It contains many different periods of architecture and decoration from mediaeval to Georgian, Regency and Victorian with a strong Gothic influence.
There is plenty of hard-standing near to the house for vehicles and the Abbey has 24 telephone lines which can be reconnected at any time including Broadband. Helicopters can land within 100 metres of the Abbey.
The Abbey, Hartland Quay, Blackpool Mill and the estate have been used recently by BBC for Sense & Sensibility, BBC Top Gear, Barbour photo shoot, Mario Testino filmed here for American Vogue, German TV for Rosamunde Pilcher's The Shell Seekers,  The Dark ( a supernatural thriller 2004), BBC Hercules (2003), BBC A Natural History of Britain with Alan Titchmarsh (2003).  BBC Gardeners World, War Zone, The Shout, Water, An Element of Doubt and Treasure Island have all been filmed here in the past.  The Hartland coastline became a very convincing St Lucia in Water with Michael Caine, thanks to some well positioned palm trees! And to think it all started with Walt Disney coming here to film his original Treasure Island.
Affeton Castle
Affeton Castle is also part of the estate and lies approx 10 miles south of Exmoor in totally unspoilt, hilly countryside.The small castle and its thatched, Devon longhouse is situated on top of a hill overlooking the a spectacular river valley. Surrounded by 1,000 acres of traditional farmland with wooded valleys, it is in a very peaceful part of the county with virtually no sights or sounds of modern life.
For all enquiries please call Hugh or Angela Stucley
Tel: 01884 860225 or +44(0)1237 441234 or 441496
e-mail: Hugh or Angela Stucley.  Email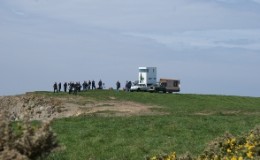 Filming for BBC Top Gear on the Warren.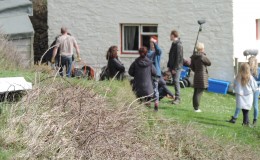 Tom Hiddleston filming The Night Manager at Blackpool Mill
Dan Stevens filming Sense and Sensibility Hartland Abbey