The Architecture and Interior
The Abbey was originally built across the valley much as it stands today, but covering a greater area. A Chapel was joined at right angles to the north wall in an easterly direction and the Great Hall on the south wall, forming an open courtyard. In 1704 Paul Orchard carried out alterations to the southern end of the house in the Queen Anne style. Later in the 1770's his son, the second Paul Orchard, carried out a major reconstruction of the house.
The Chapel and the Great Hall were demolished and he levelled the main body of the house to the height of the cloisters on which he built three large reception rooms with a row of guest bedrooms above. Along with a classical Strawberry Hill facade the project was completed in 1779. In 1845 Sir George Stucley carried out further alterations. The Drawing Room, Dining Room and Billiard Room were redecorated and two bay windows were added.
In the Drawing Room he erected linenfold panelling with a set of twelve murals above, depicting events in history in which his forebears took part. The same theme was continued in the Dining Room above the original Elizabethan oak panelling, removed from the Great Hall and painted in Victorian times.
The Little Dining Room is typical of the Queen Anne period whereas The Library is the Regency room in the house in the Strawberry Hill gothic style with panelling by Meadows and a fabulous ogee fireplace by Batty Langley
One of the main features of the house is the Alhambra Passage with its vaulted and stencilled ceiling. Sir George Stucley commissioned Sir George Gilbert Scott to design this after he visited the Alhambra Palace in Granada.
Evidence of the original Abbey building can still be seen in the Basement where the cloisters run the whole length of the passage on the west side of the house. A few original doorways still remain.
The Victorian and Edwardian Photographic Exhibition contains material from the Sudan Campaign of 1898, local scenes from the latter half of the 19th century, pictures of country houses and house parties in the 19th century and reproduced scenes from Sir Hugh Stucley's diary of his visit to the Falkland Islands in 1909.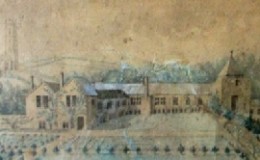 Hartland Abbey 1767 just prior to rebuilding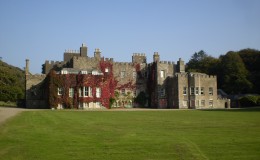 West Front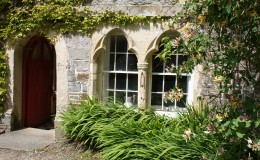 West Door & Honeysuckle