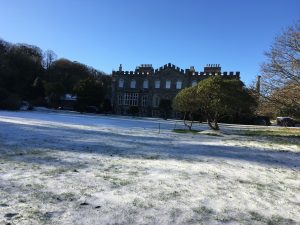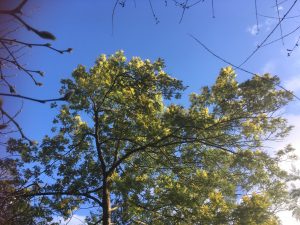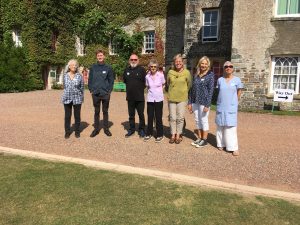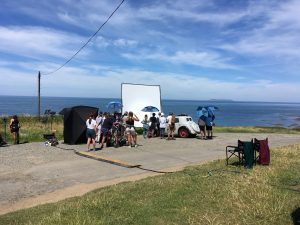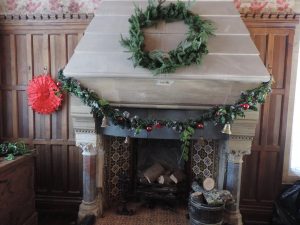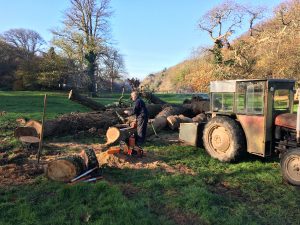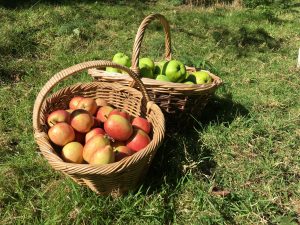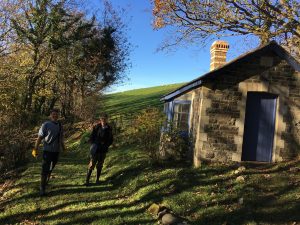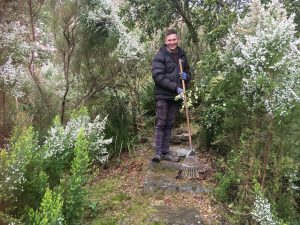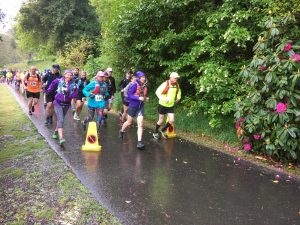 Spring 2023 is in the air!
Oh dear! I have always wanted to do a monthly blog but there is just too much to do in the house and garden, cooking, family, animals  and everyday survival to have the time to sit down,  bar once a year! A damp day is just the time to do it. Mimosa in full bloom in the Bog garden, filling the air with its mediterranean scent, snowdrops and crocuses on the lawn and many camellias flowering their hearts out have filled me with inspiration! Hopefully the daffodils and spring flowers will be looking their best for Daffodil Sunday on 19th March. Nigel, Sam, Andy and Jake have been working hard to get the gardens and grounds looking good. Hartland is a terrible place to keep a garden tidy in winter with the worst the Atlantic can throw at it! My mother in law used to tell me that Hartland was frost free – I think to encourage me to love gardening here- but in December the  temperature fell to -10 for over a week! Although not masses of snow it was intensely cold with enough snow to come through our brand new roof when it thawed – onto a new bed – not what we had hoped for! I am worried about our tree ferns who hate intense cold…It was impossible to walk around outside, it was like a skating rink even on the lawn. Thankfully the donkeys were back at the farm where they have a big shed with lots of straw.
2022 started with builders once again; the roof over the front door was leaking and the historic lack of bathrooms was something my husband and I had always wanted to redress under our stewardship before the next generation takes over! Our bathrooms were miles from bedrooms and it is jolly cold walking 50 yards in the dark and cold of winter to the nearest loo! So we now have two new ensuite bathrooms, a first for the Abbey, but not unfortunately near our bedroom! Ongoing maintenance, inside and out, is non stop with Dick and Leighton doing their best to keep on top of the painting, clearing fallen trees and everything throughout the year. The geranium greenhouse is in the throes of having a new roof, the rotten garden doors need mending… Blackpool Mill cottage, being so close to the sea, forever needs tlc… Its always all go!
Theresa, our administrator, had been waiting ages during covid for a new hip. Eventually she was called just as we were about to open for the season which was not very convenient but we were thrilled for her as she was such an athletic person reduced to being on a stick. Our wonderful small team was amazing and stepped in to help and we survived! In the autumn we welcomed Jake part time to help with maintenance. Jake will be familiar to our house visitors; he has been stewarding in the house, often greeting visitors in the front hall on arrival. He has now left college and is a jolly good pair of young hands! Maxine and Andy continue to do a great job in the house and outdoors. Max runs the shop on weekdays.
The producers of Malory Towers returned in May for a recce and confirmed that they were going to make Series 4 and a Christmas special at the Abbey which was very exciting. Filming started in June until mid July; we were blessed with incredible weather which became very challenging when the cast had to be dressed in thickest winter clothes for the Christmas scenes! One day, filming in the Hartland Quay car park, Matron, Miss Grayling, Darrel, Gwendoline and Bill, in overcoats and hats, had to endure 33 degrees! Series 4 comes out soon but the brilliant Malory Towers Christmas Special is on iplayer. They are an amazing cast and crew and we all feel like one big family! The only downside was after the wrap party we both caught covid, for the first time, and couldn't go on holiday to France – the first time we were going away in over two years!  We hope soon to display in the Abbey lots of behind the scenes images of Series 2, 3, and the Christmas Special – and Series 4 after it is released – we mustn't give away any secrets! Series 1 is already on display. Thanks to the filming we were able to have new curtains made for the Dining Room! The lovely old pale blue silk ones were in shreds so it was not before time. Beautifully made by Sue Macdonald, one of our longest serving stewards and a brilliant seamstress, we are thrilled!
The Hartland Hartbreaker Run returned in May, after two missed years,  on a beastly wet day but lots of runners took part in this gruelling marathon in order to raise money for the Children's Hospice Southwest, such a worthy cause. It is returning again this year – see events page if you would like to take part.  Another to return was the painting of Louisa Granville, my husband's great grandmother. She had been away to be cleaned and now looks wonderful again in her beautiful silk dress and some lovely flowers have appeared which we could never see before. She hangs in the Billiard Room.
We had a wonderful crop of apples in the autumn in the orchard. Oaken Pin and Woolbrook Pippin are old fashioned, delicious eaters. Oaken Pin is distinctively egg shaped. We mixed them with Don's Delight, William Crump and Bramleys and took them off in sacks to be made into juice. We were thrilled with this mix and now the challenge is to make the juice last until this autumn as it is terribly popular with our family! Hopefully we will make more juice this year so we can sell some in the shop. It is absolutely pure with no additives and tastes like nectar! Other garden highlights were the wonderful display of tulips and the lovely annuals in the Kitchen Garden. We hope this year for another dazzling display but the hot weather last year was perfect for the annuals!
We were so lucky as a family to have all been together last Christmas for the first time in three years. Our family mean so much and its not often we can all be together at the same time. I was lucky to have the help of a very domesticated granddaughter before Christmas and together we made 200 mince pies – all were eaten! We were about 20 for most meals and at least ten dogs!
We look forward to this year with lots of exciting events, listed on our Events page. Everyone is working very hard to get the Abbey and gardens looking good for the season. Leighton badly needs two new hips which we hope he will get soon. He has spent the winter bravely cutting up fallen trees, most notably the big oak in the park which fell down one hot day in July. It has always been a loved friend who we saw every day from our bedroom window. Another sad loss is one of the remaining pair of guinea fowl who must be about 20 years old now. He hates being alone and now thinks he is a peacock but two new friends are arriving very soon!
We would like to thank everyone in our small team for all their hard work keeping the Abbey and the gardens going. Without their kindness and dedication we would be lost! We are getting older and can't do as much now anno domini is catching up! Kath and Jo did a wonderful job last year feeding all our visitors so brilliantly with their delicious home made food especially their amazingly scrumptious cakes! Also huge thanks to everyone who has visited the Abbey whether as individuals or groups. It is you who keep the Abbey going for future generations of family and visitors to enjoy. We appreciate your support so much; we have loved meeting so many interesting  people over the years and hope to see many of you again. And all the dogs too! Thank you all. Angela Stucley February 2023