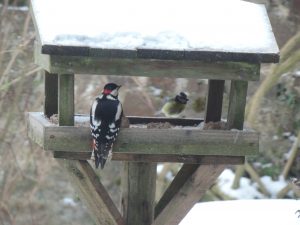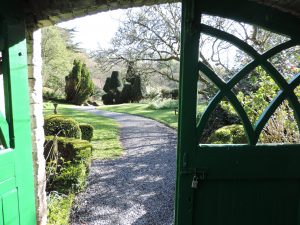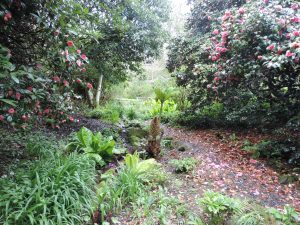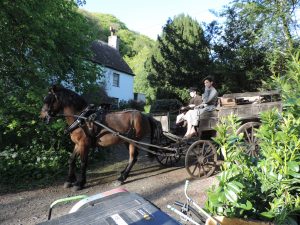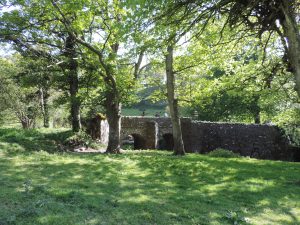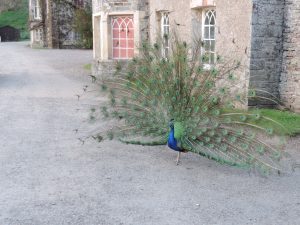 We are nearly in May and today the only ray of sunshine is my friend, the Greater Spotted Woodpecker, visiting our bird table! He visits every day and lifts our spirits in the gloom of this April – long gone are those few lovely hot days. However the bluebells are looking beautiful, the camellias are glowing and the rhododendrons and azalaeas are beginning so spring really is arriving at last. The violets and primroses are the most beautiful ever and really lift the spirits too. The Walled Gardens are filled with the scent of the 'Geranium' narcissi and Brown Sugar tulips.
We are doing lots of new planting this spring in the Shrubbery and the Bog Garden. Where we cleared a big area in the Bog Garden in the winter we are planting azaleas and rhododendrons and we are hoping to create a waterfall though this may have to wait until autumn now as it was just too wet earlier on. We have just returned from our annual trip to see the wonderful, inspiring Cornish gardens and did our customary shop at Trewithen on the way home. Now there is a car load to plant….a slightly easier plant hunting trip than those endured by the intrepid 19thC planthunters!
We have just seen the film of 'The Guernsey Literary and Potato Peel Society', so beautifully shot on the Hartland Abbey estate and at nearby Clovelly last May. We were amused to read and see so much about the beautiful Guernsey countryside where it was set;  in fact nearly all the countryside and seaside scenes in the film were shot in beautiful North Devon, much of it at Hartland and Clovelly! It is a lovely film from the book of the same name, by Mary Anne Schaffer and Annie Barrows, her niece. It was a real honour to have been chosen as a location and thank you to the cameramen for depicting Hartland so beautifully. To see Clovelly as St Peter Port, Guernsey was a real triumph of modern technology!
The 'Peabodies' as we call them have all grown enormously and 'Pike', the eldest, has been showing off his new tail incessantly – he is so proud of it. The girls are looking rather bored of him but Spring is very much in the Peacock air and we hope for more chicks this year as long as we can defeat the foxes and badgers who sadly love eating peacocks in any form. The Peabodies love our visitors and any left-over scones or bread are always welcome!
It won't be long until our outdoor theatre season starts on 24th June with Wuthering Heights by Hotbuckle Theatre. This year we are lucky to be having Amy Lythgoe-Jones of @Hartland Point doing a proper barbecue for us. We will be able to buy food before the start and during the interval of performances. We will be having our usual Wine and Pimms Bar in our ageing tent!  Lets hope for a proper summer when we can all relax with our glasses of wine or Pimms on a beautiful summer evening watching some of these marvellous performances. All the details are on our Outdoor Theatre page. Thank you again to Richard Wolfenden-Brown and The Plough Arts Centre for booking these wonderful travelling theatre companies to come to the lawns of Hartland Abbey and keep us all entertained.