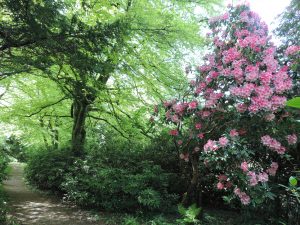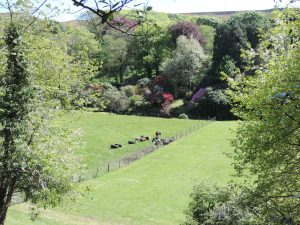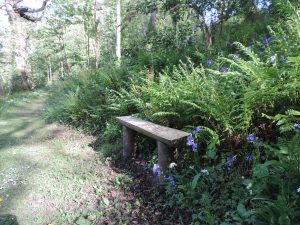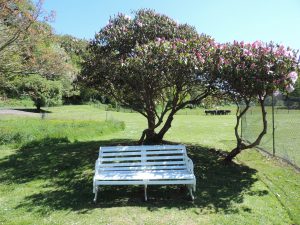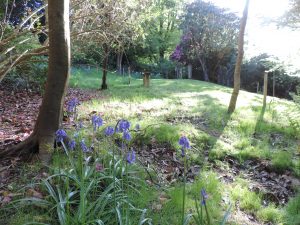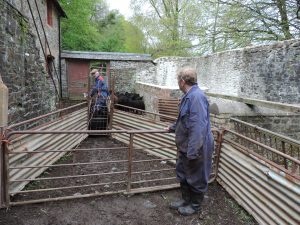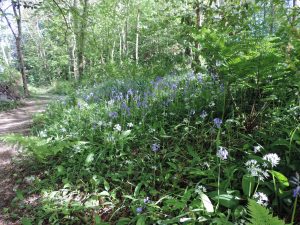 This is one of the loveliest times of the year at Hartland Abbey, not only to visit the gardens but to work in them too. Everything is exploding with fresh leaves, colour and scent. Every moment brings another surprise. So much has changed in the past fortnight! Gone are the cold winds and rain which bedevilled us for such a long time to be replaced by warm, spring sun. The bluebells, due to the cold, have been hanging on for ages and are still lovely in the Shrubbery, which is north facing, but are fading in the other walks, soon to be replaced by plenty of foxgloves, so special to Hartland.
The Bog Garden, the Shrubbery and the Walled Gardens are all bursting into life. Unfortunately weeds grow so fast too so it is the time of the annual battle against nettles, docks and ivy! But how wonderful it is at the end of a back breaking day (worse as we get older) to wander peacefully round the gardens and to see old friends flowering again after a year's absence! Most young rhododendrons and azaleas will have grown but some poor souls have hated the cold weather.
The Hartland Hartbreaker run was a huge success. The sun shone and lots of supporters came too and were able to enjoy the good weather and the Abbey gardens. Although the ground was still waterlogged in the fields we managed to park everyone and no-one was stuck at the end! Only a few minor casualties thankfully on the run and a lot of brave people finished the gruelling race in order to raise considerable sums for the Children's Hospice South West. Well done to everyone and also, especially, to Simon Haywood for his amazing organisation. I believe the next year's race is already planned for Sunday May 5th 2019! What gluttons for punishment…..
The next big event is the Midsummer Charity Weekend on 22nd – 24th June with the Charity Ball on the Friday night, a 50's Rock n'Roll night on Saturday and a big sporting event on the Sunday. We also have 'Wuthering Heights' being performed on the lawn by Hotbuckle Theatre on Sunday evening. So lots going on for everyone! All details are either on our website or on Midsummercharityweekend website. We just hope for some good summer weather as it is all in aid of very special national and local charities.
Thankfully Dave, our groundsman who keeps everything looking as smart as we can, is back from a short stint in hospital and is back on the mower and wielding the strimmer again! Leighton has been very ingenious and has managed to pull up a tree rhododendron,  brought down in the wind and snow,  with his old pulley. Nigel and Sam have been so busy in the Walled Gardens and greenhouses with hardly a moment to breath. Carol and Anne continue to keep the house spick and span – without all their huge support we would not be able to welcome visitors to Hartland Abbey and we thank them all. Kath and Jo and their helpers are doing a fantastic job providing so much delicious sustenance in the Tea Rooms.