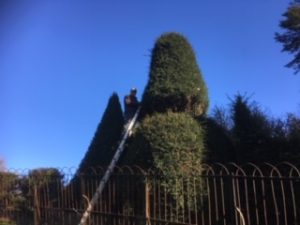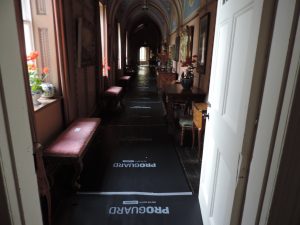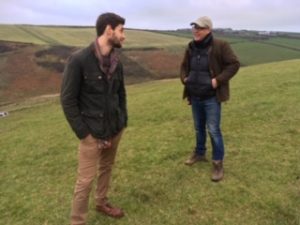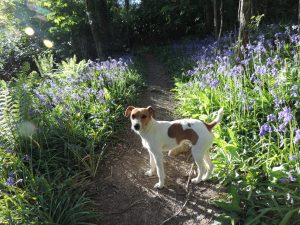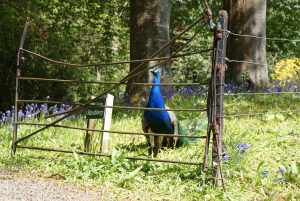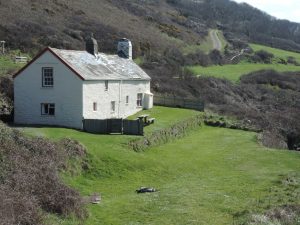 When we closed in September it seemed as though we had ages to get ready for 2020! BUT along came all the horrendous gales and so much time has been used up repairing rooves, fallen walls, cutting up fallen trees and branches leaving less time for vital maintenance. Every year this happens now whereas winters used to be calmer and colder. We need frost to kill some of the bugs and push the slugs far into the ground. Instead they have munched their way through the garden as if it was summer!
This is now what we have to live with in this beautiful but exposed part of North Devon. The climate is changing. We have always tried hard to be very careful turning off lights, not using heating but wearing more jerseys, cutting waste, using our food waste as compost, using farm manure to improve the ground, never even throwing away string, old envelopes, elastic bands or anything useful for that matter. Our wartime upbringing! But sadly the world is a wasteful place and now we all have to do our best to reverse the trend.
Just before we closed in 2019, September was full-on with King Bert Productions and Canadian production company, Wild Brain, filming Enid Blyton's 'Malory Towers' for CBBC in and around the Abbey. It was the greatest fun as absolutely everyone- actors,  producers, directors, location, chaperones and all the crew – were charming. The weather was very un-Septemberish with a lot of rain and mud which could have been awful for the house but there was such thoughtfulness and kindness and fun that it made it a happy experience! Due on CBBC TV very soon I think it will bring back many memories of boarding school for our age and I know our granddaughters are going to be addicted to Darrell Rivers and all the goings on! Our Dining Room was transformed into the Malory Towers dining room – it was interesting to see what had accumulated under the carpet when it was taken up for the first time in at least 50 years!  Their props and cold porridge really did bring back memories but I am not letting on any more! It really will be worth tuning in! We thank King Bert and Wild Brain for bringing 'Malory Towers' to Hartland Abbey; so many local accommodation providers and local businesses benefitted in this hidden corner of the Hartland peninsula.
2019 was very busy with filming on the Hartland Abbey Estate with Hartland Quay also playing a starring role in Daphne du Maurier's 'Rebecca' filmed by Working Title and Netflix. Six weeks of painting and construction all through May and June culminated in five days of filming. Ideally wanting some pretty wild and gloomy weather for the boat scenes, the weather turned into a Mediterranean climate with a flat calm, and beautiful, blue sea! Local swimmers endured an extremely frustrating time not being allowed to swim for 'health and safety reasons'; they were amazingly understanding particularly as most of the rest of the summer was awful and the bay was unswimmable! it will be fun to see how the film appears on the screen when it comes out soon. Hartland Quay looked amazing! The 'street' at Hartland Quay became Kerrith with the Courtroom; Rebecca's boathouse was constructed on the Quay and her boat was pulled from the bay. We had the unit base at the Abbey on the tennis court lawn so the grandchildren had a great time trying to spot the stars'! Armi Hammer plays Max de Winter, Lily James is Rebecca and Kristen Scott Thomas is Mrs Danvers! Better images will appear as soon as the film is released but at this stage we mustn't give the game away!
In November 2018 the BBC filmed 'Gold Digger' on the beach at Blackpool Mill and on the Berry cliffs. The production starring Julia Ormerod as Julia Day and Ben Barnes as Benjamin Greene was shown this winter, a year after filming. We enjoyed seeing Hartland looking stunning, filmed from the top of the cliff, with the Atlantic rollers in a wonderful November light. Its worth watching!
We have had great difficulty getting on the garden because it has been so wet but we have almost finished the annual winter task of deadheading all the hydrangeas. It seems to be mine and my husband's job and the task is very overwhelming to begin with but on a dry day with Nellie and Rosie keeping us company it can be quite fun, especially when they look tidier. I just wish they grew slightly less enthusiastically but they do seem to love Hartland and thrive and produce the most wonderful blues from July onwards, particularly in the Shrubbery (or 'The River's Distraction' ) as it was called by Marion Stucley in the early 1900's).
When we reopen on 15th March for Daffodil Sunday we will have two new exciting displays – 'A Victorian Honeymoon' on our ancestors very long honeymoon around Europe, lasting  110 days and covering 6000 miles! Rather longer than the average honeymoon these days!  Also we are showing a fascinating display on 'Falconry by The Hon. Gerald Lascelles' put together by local falconer, Brian Bird, who is very kindly lending his display to us. He has put together a fascinating insight into falconry and we are extremely grateful to him for a truly wonderful exhibit. Gerald Lascelles was my husband's great grandfather and the leading falconer of his time. He was the Deputy Surveyor of the New Forest for many years in the late 19thC.
At this time the weather is still awful but lets hope for better and a lovely spring and summer for visiting. As I write another storm, Jorge, is raging and poor old Hartland gets hit every time! We have lost a lovely magnolia in the Walled Gardens but we will replant as soon as the ground dries. The wall has fallen down at the top of the Bog Garden of the ancient greenhouse so we now have to decide what to do there as it is much too expensive to rebuild. The camellias are looking amazing and should be looking their best on Daffodil Day along with all our lovely historic daffodils and spring shrubs and bulbs. A newly cleared piece above the front drive is covered in foxgloves so come May that should look wonderful. Spring is such an exciting time!
My husband has written an interesting booklet during the winter, on his ancestors who have lived at the Abbey from 1885, up until when we inherited it to the present day. He explains the decisions we have taken and for what reasons. There is also quite a bit on the filming that has come to us from 1986.
On a personal note we have just come back from a week in Scotland staying with our youngest daughter and her family in Dumfriesshire. It is a beautiful part of the world near the Solway Firth. A great day was spent walking on Hadrians Wall when our son and his family joined us who were also staying up north.
We have lots of exciting events coming up with Daffodils, Easter, Bluebells  and lots of theatre thanks to the Plough Arts Centre bringing some fantastic productions for 2020. We do hope to see lots of visitors and always we will do our best to give you a good time!
Our three holiday cottages, Blackpool Mill and The Bear at Hartland and Affeton Barton, in the beautiful country near Chulmleigh,  have all been done up this winter and are all great places to stay to get away in the fresh air and beautiful countryside of North Devon. Angela Stucley March 1 2020