Hartland Abbey Mothering Sunday and Spring Flowers 26th March 2017 11-5pm
Our first open day of the 2017 season coincides with Mothering Sunday. Daffodil Day will be held earlier on Sunday 12th March.
Spring should be in full swing at Hartland Abbey in time for Mothering Sunday on 26th March. It will be a lovely opportunity to walk around the gardens and grounds with the magnolias, tree rhododendrons, stunning camellias, daffodils, scillas, hellebores and spring bulbs bursting into flower. The Old Kitchens Tea Room will be producing hot soup, pasties, light lunches and their scrumptious homemade cakes and cream teas. The house will be open too between 1 – 4pm.
Lovely primrose walks lead to the beach and Blackpool Mill, the location for 'The Lanyon' in 'The Night Manager' with Tom Hiddleston, Hugh Laurie and Olivia Colman, filmed in April 2015 in Hartland village and on the Hartland Abbey estate.
Do come along for our first day of the 2017 season and give your mother a happy day out in this beautiful valley! Dogs will love it too!
Normal admission prices apply.
Hartland Abbey, Nr Bideford EX39 6DT Tel: 01237441496/234
Stunning camellias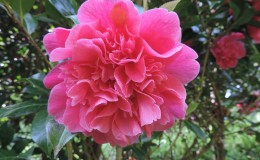 Heavenly hellebores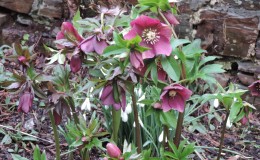 Daffodils and dogs!