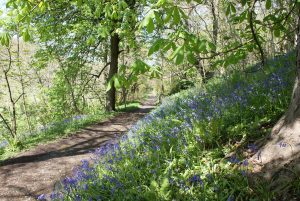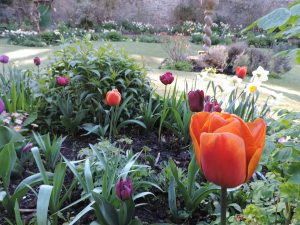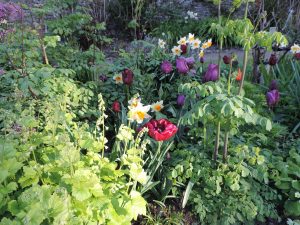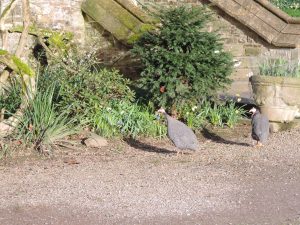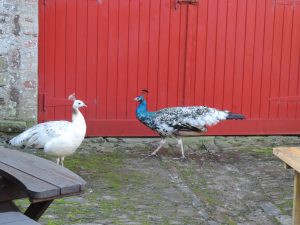 It is only early April but things are really stirring in the valley at Hartland Abbey! The daffodils and narcissi have been better than we have ever seen but are almost over now except the deliciously scented 'Geranium', one of the latest of all. The tulips in the Walled Gardens and all the pots around are bursting into flower in the most glorious riot of colours. Just as, sadly, the narcissi are fading new life is erupting to put on a show of glittering, jewel-like beauty! They are so early I worry how long they will be with us in this glorious, summery weather. The camellias too are putting on a fantastic display with some huge heads on the later ones above the Fernery. We have cleared some ponticum so that they are easier to see. The azaleas and rhododendrons are all coming out in the Bog Garden; the Shrubbery hopefully will be a little later.
The bluebells have burst forth too and the valley is turning bright blue again. Violets, primroses and wild anemones accompany them and the gorse and blackthorn on the steep slopes above Blackpool Mill Cottage are a wonderful sight. It is such a great time of year to visit Hartland Abbey! Our visitors are telling us how beautiful the bluebells are looking now – just the right time for a wonderful Easter display.
Easter eggs are in the larder keeping cool, all ready for our Easter Egg Hunts on Easter Sunday and Monday! It is so difficult to know how many to order as we have no idea yet what the weather will be! But hopefully we have enough for all the children who so love the fun of Easter!
Kath and Jo will be cooking up some special Easter treats in the Tea Room. They are always look so tempting and are so delicious they are hard to resist!  Marjorie, our white peahen, and her son, Malcolm, love being around our visitors and are always grateful for crumbs under the outside tables. Malcolm is growing a tail of which he is immensely proud! But every time I try to photograph him when he is strutting his stuff he becomes very embarrassed and puts it down. So if anyone can get a good photo we would love to see it! Hopefully Marjorie will sit again this spring and perhaps produce more than one chick, and a girl would be very welcome!
Blackpool Mill Cottage and The Bear have both been spring cleaned, painted and in The Bear smart new lamps in the Sitting Room and the main bedroom look really good. There is a busy season ahead so it is so important that everything is spick and span now. We look forward to welcoming guests throughout the summer.
All the family will be with us for Easter so there is a lot of bedmaking and cooking going on! Our dear Scudamore granddaughters had the time of their life at Aintree yesterday when Lucinda Russell, partner of their paternal grandfather, Peter Scudamore, trained 'One for Arthur', winner of this year's Grand National and they were lucky enough to be included at the prizegiving, a moment they will never forget!
Lets hope for some more beautiful weather and a good summer! Angela Stucley