It is only a few days now until we open for our 2015 season. The usual last minute panic ensues, as it does every year. Nothing goes to plan when we are closed and this winter has been no exception with two huge trees falling down in the last month which needed clearing, just as we had tidied the gardens and walks ready for opening! We had been hoping to open a small visitor centre full of information within the house but time has run out. It will be a good job in wet weather and hopefully it might be opened later this year in what was an old staff bedroom. We are also hoping to have a short(ish) film of the life of the naughty Sir Thomas Stucley, an 16th Century ancestor, which is being made by Sir Hugh's cousin, Professor David Northmore. It promises to be very exciting and probably quite bloodthirsty seeing he was such an old devil! Carol has been dusting and polishing and hoovering up flies, Theresa taking lots of bookings and making wonderful new notices, Nigel, Sam and Dave trying to get the garden looking its best, Leighton mending everything and we have been beavering away in the background trying to create our new website and dealing with the ever increasing mountains of paperwork!
An enormous oak tree fell across the part of the Bog Garden where some of our loveliest camellias grow, smashing them to the ground. Whereas this will not do them any harm, as we get older we will miss them until they flower again in a few years time. Camellias rather relish being cut back but take a few years to flower again. This oak tree, probably 250 years old, was not rotten at all but just pulled over by its huge weight. However there is no shortage of camellias at Hartland Abbey and we have lots of photographs to remind us of their beauty.
The saddest of all has been the loss of the old Mulberry tree in the bottom of the Walled Gardens, just inside the yew topiary. For hundreds of years it had been producing delicious, juicy mulberries; the grandchildren called it the 'Juice Tree' on account of the squishy berries which they loved! Their faces were black by the time they had finished. It is always so sad losing any tree, let alone a loved one. We have immediately planted another mulberry which we hope will bear fruit in our lifetime!
This winter we have achieved some definite improvements to the visitor experience! The walls in the Tea Room were always damp, typical of an old building. Leighton has tongue and grooved the walls and it has immediately improved, not only the appearance, but the warmth! Kath and Jo provide such wonderful lunches and cream teas for everyone so it is nice to do something for them. They are planning delicious Easter treats!
The front drive was becoming very bumpy. Last year we resurfaced the back drive, this year we have had to fork out again, not something we were longing to do at all! Up until now it was the old stone carriage drive, put in about 250 years ago, but sadly now worn out from so many cars. However it was necessary for our visitors to arrive safely and happily. This is an example of a substantial hidden cost caused by the amount of traffic visiting the Abbey; in the old days there were few cars, and few carriages before that. However we are grateful for every visitor. Without you we would not be able to keep the old place going. Thank you!
The most important (and necessary) improvement is the new ladies' loos! We have NEVER had hot water, something most of us come to expect in the 21st century! There was only one washbasin and the loo handles were forever breaking off! Thanks to Leighton and Dave we have modern flushers, two washbasins AND hot water! This should particularly help lessen the queues for coach parties, and theatre goers when 300 people need the loo in a 15 minute interval!
Lastly we have created our new website www.hartlandabbey.com , something that was necessary to be compatible with advances in new technology. We are very happy with it but it took weeks to achieve the end result. Hopefully it will be easy to glean the information you require. We are producing our first Hartland Abbey mugs which will be on sale very soon. The design was by our very good friend and architect Brian Percival whose wife, Wendy, writes very good and exciting novels, on sale at Hartland Quay!
Last year was so busy that I never wrote a newsletter! So this is a quick catch up…
Very sadly Alice, our adored Jack Russell, was killed on the road. It was absolutely heartbreaking. But every cloud has a silver lining and now Rosie rules the roost. She is now a year old, doesn't bite, is loved by us all but has got it in for our lovely new peahen, the peacocks, the guinea fowl, the cockerels and the black sheep! Trying to stop her chasing them is almost impossible as terriers are very selectively deaf!
The walls in the vegetable garden were in an awful state so this time last year we had a team in to repair them and they do look much better. Sadly there
wasn't enough in the kitty to repair them all but at least it is a start and has stopped the worst falling down completely.
We had lots of events including the very popular and gruelling Hartland Hartbreaker Run which is being held again in May this year and a wonderful season of outdoor theatre and this year promises some very special performances from Mr. Stink and a Family Arts Day for children to some good Gilbert and Sullivan with 'Iolanthe', Jane Austen's 'Emma' and much more and an evening of Jazz with Digby Fairweather's Half Dozen and Tina May. All details are on our website www.hartlandabbey.com.
The Willian Stukeley exhibition continues and is to become a permanent feature in the house as there is such a strong connection to this family. He was a fascinating character who achieved so much in his lifetime, long before modern technology and modern communications. His involvement in Stonehenge and Avebury is very topical considering how much time is spent visiting these ancient places, and their history, on the television.
We had our Daffodil Day on 15th March. It was a lovely day and thank you to everyone who came and the very special dogs!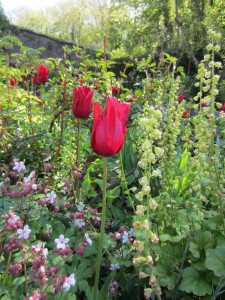 The daffodils were very reluctant to appear on time but plenty of camellias and the most wonderful mimosas were flowering profusely. It does mean that the daffodils will be at their best at Easter as well as the magnolias and lots of beautiful spring flowers. The camellias are fantastic this year. We have two Bluebell Days at the end of April when the valley turns blue. It is a wonderful time with the wild orchids and foxgloves appearing too. This year we have new plantings of tulips in the Walled Gardens and pots which we hope will look stunning. Some are already in bud but later in April and May they should be spectacular.
The grandchildren are all growing fast. We just love it when we can all be together at times like Christmas and Easter. Our son in law, Tom Scudamore, who is a National Hunt jockey has had a very good season so far with two winners at the Cheltenham Festival but we are always mindful of the falls ahead in this most precarious of jobs. Our other son in law, Ran Morgan, who runs Knight Frank in Edinburgh has had a terrible fall in a cross country race and has broken his hand, his wrist, his ribs and his collar bone all in one go. And all in the name of fun….
We have a few available weeks in the holiday cottages. We will always do a reduction for couples as although they both sleep eight people, they are cosy and very good for two people.
We are very hopeful that the BBC is coming here to film part of a six part drama series for TV, and we have the possibility of a three day festival in summer. So there is plenty to keep us busy….
We are so grateful to our wonderful staff for all they do to keep the Abbey and gardens going. If you notice things are not perfect, please appreciate that with Leighton (just retiring after 50 years here), Dave, our groundsman, (almost retiring), Carol, our wonderful housekeeper
who cleans all the Abbey herself (almost retiring) and us (past retiring), we all do our best. Theresa is young(ish) but Nigel and Sam in the gardens are our only really young things!! Unlike the National Trust who have thousands on their staff nationally
and a lot of people running each property, we are a private, family house without the funds to employ lots of people. We appreciate hugely the many, many kind remarks written in our comments book by thousands of our visitors each year but are saddened when a very small minority write derogatory comments on Trip Advisor. We would really appreciate it if you were to come and tell us or our staff what is wrong so that we can hopefully put it right!
Thank you very much for reading this and hopefully it might persuade you to visit our beautiful corner of England in 2015! Hugh and Angela Stucley March 2015