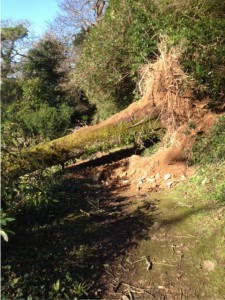 For the past few years now January and February have thrown terrible weather at Hartland. This winter has been one of incessant rain, making it very difficult to garden and making the walks and parking lawn into bogs! We used to be able to have Snowdrop Sunday around 6th February but again this year it would have been impossibly wet an made far worse by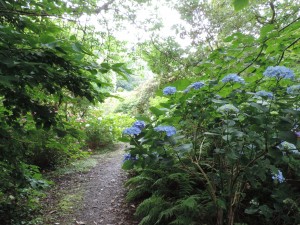 the arrival of Storm Imogen on the Sunday. The waves at Hartland Quay were massive but thankfully the hotel emerged unscathed. Imogen hit us really hard on February 7th and 8th bringing down old oak trees, blocking the front drive and the Ladies Walk completely. We had lost a huge, old sycamore earlier in the winter in the Shrubbery which provided wonderful shade to the hydrangeas. It was particularly beautiful with a mass of harts tongue ferns growing from its huge, old branches. It is so sad; its loss has ruined a part of the garden and as ever, hugely expensive to get cut up and removed. But life has to go on…..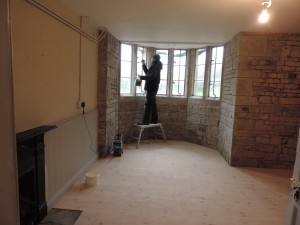 During the winter our new recruit to the team, Richard Johns, has created a brilliant new exhibition space in what was 'Mrs Maynard's Room'. During the war it was the housekeeper's room which must have been hard for her as it was miles from the nearest bath and loo! We are planning a display in here on the history of the Hartland Abbey Estate together with a television film on the family. Next door will be our 2016 exhibition of 'Filming on the Hartland Abbey Estate since 1950'
covering all the filming including 'Water' with Michael Caine, Billy Connolly and Leonard Rossiter, 'An Element of Doubt' with Nigel Havers and Gina McKee, 'The Shout' with Alan Bates and Julie Christie up until the recentfilms of 'The Shell Seekers', BBC's Sense and Sensibility' and BBC's latest, and brilliant, 'The Night Manager' with Tom Hiddleston, Hugh Laurie and Olivia Colman, filmed here in April 2015.
Sunday 28th February sees the second episode of 'The Night Manager' on BBC1 at 9pm in which Hartland village and Blackpool Mill cottage will feature. The first episode was so good that all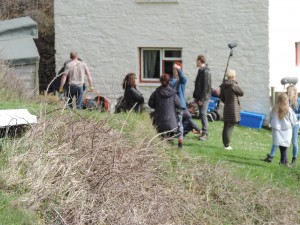 of us at Hartland Abbey are eagerly awaiting Sunday evening. After the exotic locations of Egypt and Zermatt, Blackpool Mill will bring us all firmly back to earth! It seems ages ago that the whole film unit moved in to the Abbey car park for the week
of filming.
Our first event of the year is Mothering Sunday on 6th March which will be a great opportunity to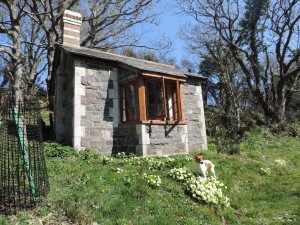 visit the Abbey and gardens at a reduced rate before the main season starts. There are lots of lovely flowers appearing in the gardens to herald the start of spring, thank goodness! Magnolias, tree rhododendrons, camellias, daffodils and narcissi, scillas, hellebores, wild primroses and even the first bluebell has been spotted a month early. The family Treasure Hunt is always fun and keeps everyone well exercised including the dogs. We then open for the season on Good Friday, with Easter Egg Hunts on Easter Sunday and Monday.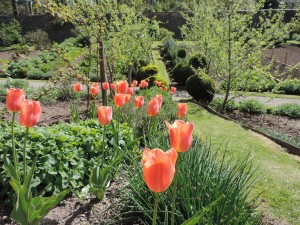 We then have lots more exciting events. Bluebell Sundays on 17th and 24th April are always fun with the carpets of blue leading to the sea and the rhododendrons in full swing. On May 1st we have the gruelling Hartland Hartbreaker Run in aid of the wonderful Children's Hospice South West. May is also Tulip Time in the Abbey Walled Gardens with, hopefully, a stunning display of tulips in all colours. Then we go into the Outdoor Theatre Season in July in conjunction with the Plough Arts Centre, Torrington. This year we have some fabulous treats ahead: Danny the Champion of the World, by Roald Dahl, performed by Illyria; Gullivers Travels performed by The Pantaloons with a Family Arts Afternoon beforehand; Shakespeare in the form of Hamlet performed by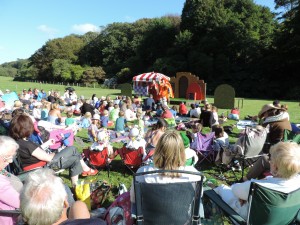 The Festival Players; Ratburger by David Walliams, performed by Heartbreak Productions; A Midsummer Night's Dream performed by Illyria and lastly, The Importance of Being Earnest by Oscar Wilde, performed by Heartbreak. So, hopefully, something for everybody! We welcome back Mr Crackling (Trevor and Emma Shere) with their delicious barbecues and we will have our bar.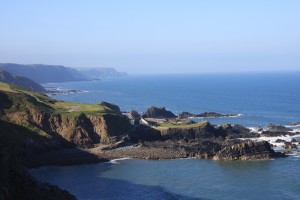 It was a huge shock and great sadness last summer when Chris and Jill Johns told us they were leaving Hartland Quay Hotel as Managers. They were the third generation of the Johns family to have run the Quay since 1963 when Chris's grandfather took on the lease of the hotel. Hartland Quay Hotel is part of the Hartland Abbey Estate. Chris and Jill have done a wonderful job welcoming thousands of guests over the years and have worked extremely hard doing everything from shoreing up the cliff and mending the roof after storms to running a welcoming place to stay, eat and drink. They have been supported by their marvellous and loyal staff. We thank them for all they have done. They will be sorely missed but we are extremely lucky to have Donal and Sarah Stafford taking on as Managers. Donal and Sarah are local to Hartland and have great experience of the hotel trade. Sarah has set up her own successful business running The Old Bakery Coffee Shop in Hartland which will continue to provide welcome refreshment in the Square. We wish both them and Chris and Jill our very best wishes for their futures.
We are all busy preparing the house and gardens for what we hope will be a busy season with our fair share of good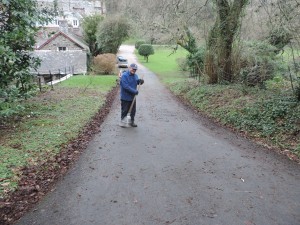 weather. Leighton and Dave have been cutting the laurels back on the road to make sure there is plenty of room for the coaches to come in. There is still a lot of sprucing up to do before Mothering Sunday as it has been quite impossible to mow the lawns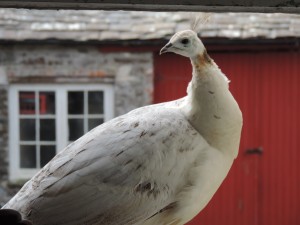 up until now but Dave, Nigel and Sam have been working flat out in the gardens while Carol has been wielding the hoover and dusters with gusto! Theresa meanwhile prepares to welcome many coachloads of visitors throughout the summer who will no doubt be well fed and nourished by the wonderful team of Kath and Jo in the tearooms. No-one can resist their delicious cakes and cream teas…. Marjorie, the peahen, looks forward to any crumbs under the table! The donkeys, Becky and Snowdrop, are waiting for the blacksmith to do their feet before returning to Hartland from their overwintering at the farm.
We look forward to opening the gates on Sunday 6th and welcoming our visitors for 2016! We thank our wonderful hardworking team here for their support to us. We look forward to welcoming back all our part time house stewards and those who work so hard in the kiosk to welcome our visitors; we miss their company during the winter and are always so pleased to see them back along with new helpers to our close knit team.
Finally we hope our 2016 Hartland Abbey leaflet will be popular. In recognition of the huge support given to us by our Dutch visitors year on year we have designed it in the good orange of the national colour of Holland. We hope it will be easily discernible in the leaflet racks!
Hugh and Angela Stucley February 2016